Invisalign® FAQ
If you don't like how your smile looks, Invisalign is an innovative and convenient way to straighten your teeth. Below are some Invisalign FAQ that we often receive about Invisalign.
What Is Invisalign Treatment?
Invisalign uses the latest technology to digitally map your teeth, create custom plastic aligners that fit over your teeth and apply gentle pressure to move them into place. You remove the aligners to eat, drink, and brush.
Why Choose Invisalign?
As the name suggests, Invisalign is virtually invisible, and you can remove the aligners before you eat, drink, or play sports, eliminating the common restrictions of braces.
Invisalign aligners are custom-fit to your teeth and more comfortable than braces. Additionally, Invisalign can straighten your teeth faster and with less pain and discomfort.
What Is the Invisalign Treatment Process?
At your initial consultation, Dr. Harris will take a 3D x-ray as well as a digital scan of your teeth. From these images, he digitally creates a treatment plan that consists of several sets of aligners. These are custom-made to gently move your teeth to achieve a perfect smile.
The gentle pressure you feel during the first week of wearing the plastic aligners is a sign that the treatment is progressing. After a week or two, you will become accustomed to the feeling and not even notice it. Your treatment is complete when your teeth are in the proper position, and you are in love with your new smile.
How Do I Care for My Invisalign Aligners?
Caring for your aligners is simple. When removing the aligners, rinse them thoroughly before placing them in the case. Clean your aligners with just a toothbrush and lukewarm water. After eating or drinking, brush and rinse your teeth before putting your aligners back in.
Is Invisalign Right for Me?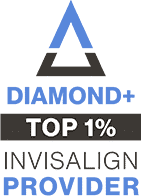 Dr. Harris frequently hears the phrase, "I was told my case can't be treated with Invisalign." More often than not, patients ARE candidates for Invisalign – they just need the right doctor to be using it. Dr. Harris has case after case of examples of beautiful and healthy smiles achieved through Invisalign that other doctors thought could only be achieved through traditional braces.
Invisalign is a wonderful option for people with busy schedules! It switches the burden from patients having to come into the office every six weeks, to Dr. Harris, who does most of the work behind the scenes! Invisalign is a tool that is only as effective as the hands that use it, and Dr. Harris has incredible experience in developing treatment plans that create gorgeous smiles. He even travels throughout the country to teach other Orthodontists how to use the Invisalign system effectively.