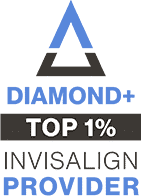 Dr. Harris is a top 1% Diamond+ Provider of Invisalign®, so rest assured, we understand how the system works and recommend it to many of our patients. Get more information about your orthodontic care options by requesting a free consultation. 
Dr. Harris frequently hears the phrase, "I was told my case can't be treated with Invisalign." More often than not, patients ARE candidates for Invisalign, they just need the right orthodontist to be using it. Dr. Harris has case after case examples of beautiful and healthy smiles achieved through Invisalign that other doctors thought were impossible.
What is Invisalign? The Invisalign system serves as an alternative to traditional braces. Patients who use Invisalign can achieve a beautiful smile without using metal brackets, wire, or elastic bands.
Find Out How the Invisalign System Works
Invisalign is a great option for people with busy schedules. With traditional orthodontic treatment, patients would need to visit the office every 6 weeks for regular adjustments. With Invisalign, Dr. Harris can do most of the work behind the scenes. Find more info on the individual treatment steps below!
Develop a Treatment Plan
Invisalign is a wonderful option for people with busy schedules! It switches the burden from patients having to come to the office every six weeks, to Dr. Harris who does most of the work behind the scenes! Invisalign is a tool that is only as effective as the hands that use it, and Dr. Harris has incredible experience in developing treatment plans that create gorgeous smiles. He even travels throughout the country to teach other orthodontists how to use the Invisalign system effectively.
Create Aligners
Once Dr. Harris completes your treatment plan, he will send your plan to Invisalign, where they will create your custom set of Invisalign clear aligners. Unlike the brackets and wires associated with traditional braces, these aligners are virtually invisible. You will receive multiple sets of aligners with the Invisalign program, but the number of aligners will vary from patient to patient depending on how far the teeth need to move.
Wear the Aligners
Once you receive your aligners, you need to wear them for around 22 hours every day. You should only remove your aligners to:
Most patients wear a set of aligners for about one or two weeks before changing to the next set. When you reach the final set, you should end the process with straightened teeth. Patients' treatment times vary, but most patients complete treatment in the same amount of time, if not faster than, they would with traditional braces.
Benefits of Using Invisalign
Many patients prefer the Invisalign system to traditional braces. The Invisalign program comes with several benefits.
Unnoticeable – The primary benefit of the Invisalign system comes from its near invisibility. Some patients feel uncomfortable wearing standard braces, especially if they decide to straighten their teeth as adults. We've helped patients who felt they could not wear braces due to their careers. The Invisalign system enables you to avoid noticeable metal brackets or colorful elastic bands, the tools often associated with traditional braces.
Shorter Treatment – In many cases, patients see faster results when using the Invisalign system. These systems also require fewer appointments, as Dr. Harris does most of the work behind the scenes!
Easier Care – You simply remove your aligners when you need to eat and brush your teeth. You don't have to brush around metal brackets or worry about how to floss with wires in the way. As a result, many people find it easier to care for their oral health with Invisalign aligners.
More Comfortable – With braces, the brackets and wires can rub against your gums and cheeks causing soreness and irritation in your mouth. Invisalign has relatively no discomfort apart from the soreness associated with your teeth moving into place
Teeth Whitening Benefits – Some patients choose to have teeth whitening done when they receive their trays. While the recommendation varies from patient to patient, this may be an option for you as well. Consult our office or ask Dr. Harris if this is right for you.
Is an Invisalign Clear Aligner the Right Choice?
You have choices when it comes to your oral health. In some cases, using the transparent aligner system provided by Invisalign allows you to straighten your teeth more effectively than traditional braces.
However, the Invisalign system isn't suitable for everyone. Patients must have the willpower to put in and wear their aligner trays 22 hours a day to use the system successfully. Patients who remove their trays too often will not see changes in their teeth.
Financial Info About Invisalign
Our office works hard to ensure every patient can get the care they deserve. Our team can help you review your insurance coverage, and we also check your out-of-pocket costs that go past insurance. We get started with a consultation designed to answer all of your questions about this treatment plan.