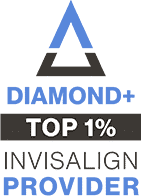 Are you considering your options to straighten your child's teeth? If so, you may want to consider Invisalign® for kids. The Invisalign system can adjust teeth without using metal brackets or rubber bands.
Our team at Harris Orthodontics provides specialized advice about the Invisalign system. Dr. Harris is a top 1% Diamond+ Provider of Invisalign so you know you'll receive the best care possible.
Review the Facts About Invisalign
The Invisalign system offers you an alternative way to straighten your teeth and the teeth of your children. As a result, you don't deal with brackets or wires that many children find uncomfortable.
Instead, your child will receive a series of Invisalign clear aligners. Children wear these aligners for 20-22 hours every day, switching to a new set approximately every one or two weeks.
Pediatric Invisalign and Clear Aligners for Kids
Some parents worry that their children may refuse to wear the aligners in a pediatric Invisalign system. However, research shows that most children adapt quickly to the clear aligners – some younger patients even follow the aligner schedule better than adults!
Benefits of Invisalign for Kids
Selecting the Invisalign system for your child comes with several benefits.
Your Child Can Eat Anything
Traditional braces limit the foods your child can eat. Generally, orthodontists recommend that patients with braces avoid:
Sticky foods
Chewy foods
Hard foods
With the Invisalign system, your child should remove their aligner at mealtime, allowing them to eat whatever they want. As a result, patients with an Invisalign system face no dietary restrictions.
Comfortable and Low-Maintenance
Traditional braces use wires, elastic, and metal brackets to pull your child's teeth into position. Sometimes, the wires break or snap. These incidents often occur if children eat things they shouldn't or during sporting events.
Broken wires can poke at the inside of your child's mouth and require professional repairs from an orthodontist. You don't have to worry about this situation with Invisalign aligners.
Easy to Remove for Brushing and Flossing
Many children have trouble maintaining good oral hygiene with traditional braces. They have to brush and floss around brackets and wires. The Invisalign system does away with this difficulty.
Your child will remove their aligner when it's time to brush and floss, making oral healthcare easy. Consistent brushing and flossing help protect your children's permanent teeth.
More Reasons to Choose Invisalign for Your Child
We've already discussed some of the benefits of the Invisalign system. You may also decide on this orthodontic solution if your child wants to participate in sports.
The aligners work as a sort of mouthguard if your child plays sports. However, we recommend using a special sports mouthguard for maximum protection. During practices and games, your child can remove the aligner.
Steps to Care for Aligners
We recommend that parents help younger children care for their aligners.
They should wear them most of the day (22 hours per day).
They should brush the aligner when they brush their teeth to keep the aligner free of harmful bacteria.
They should remove the aligners when eating or drinking.