Invisalign® for Teens
Not that long ago, attaining a perfect smile meant donning metal braces that could take up to 3 years to achieve the desired results. Today, Invisalign for teens is a popular alternative to braces that is nearly invisible and much more comfortable to wear.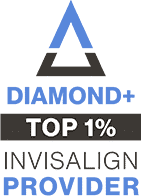 If your teen son or daughter wants to improve their smile without wearing unsightly metal braces for extended periods of time, Harris Orthodontics can help. Dr. Harris is a top 1% Diamond+ Provider of Invisalign, so you know you'll receive the best care possible.
Invisalign is a set of clear aligners that straighten teeth with little to no pain, all while being virtually invisible.
Invisalign Teen can Help Improve Your Teen's Smile
Invisalign is a series of custom-made aligners to fit your teen's mouth. Each set is worn for up to two weeks and will gradually adjust the tooth position.
Every one to two weeks, you will get a new set of aligners that will adjust your teeth until you get the results you desire. This process usually takes six to twenty-four months to achieve a perfect smile.
To start your Invisalign treatment, Dr. Harris will create a digital model of your teeth and show you a mockup of how your smile will look after you've finished treatment. After a few weeks, you will receive multiple plastic aligners that will gradually shift your teeth into place. This process is much less painful than metal braces, and you won't have to deal with the dietary restrictions of braces.
Invisalign Teen works similar to Invisalign for adults. One difference is that Invisalign for teens provides space for your teen's teeth to grow.
In addition, colored compliance tabs show whether or not your teen is wearing the aligners for the recommended 20 to 22 hours a day. Because you can remove your aligners at any time, some teens may forget to put them back in. The compliance tabs will show if your teen is keeping up with their treatment.
How to Protect Your Invisalign
You'll wear each set of plastic aligners for one or two weeks before you switch them out for the next set. To get the most benefit from your plastic aligners, keep them safe and clean by following these steps:
Clean your aligners at least twice a day with a toothbrush and lukewarm water. Stay away from using toothpaste to clean your aligners.
Remove your aligners before you eat or drink, although you may keep them in while drinking water
Brush or rinse your teeth thoroughly before putting your aligners back in
When not wearing your aligners, keep them in their case so you will not lose or break them
Teenagers lead busy lives, and sometimes things get misplaced, including their Invisalign aligners. If this happens, let Dr. Harris know right away.
Benefits of Invisalign
A bright white smile with straight teeth can improve your teen's self-esteem and confidence. Other benefits of Invisalign Teen include:
No unsightly metal braces that cover a smile
No food restrictions
More comfortable than braces
You can keep playing sports
Shorter treatment time than braces for most cases
Enjoy Your Favorite Activities with Invisalign Teen
Many teens don't want braces because of how they look. Braces also come with food and activity restrictions that can get in the way of your teen's routine. Plus, braces require extra oral hygiene care, making flossing more difficult.
With Invisalign Teen, your teen can still enjoy all of the activities they love and feel confident about how their smile looks while it's being straightened. They will simply remove the plastic aligners when they eat or drink.