Invisalign® for Adults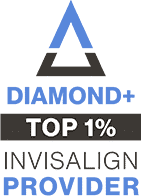 If you never had braces as a child, or if you had braces when you were younger but your teeth have shifted since then, Invisalign for adults can help straighten your teeth and give you the smile you always dreamt of. Invisalign is a great alternative to braces thanks to its near-invisible appearance, comfort, and flexibility.
Harris Orthodontics can perform many orthodontic treatments for adults, including straightening your teeth with Invisalign clear aligners. Dr. Harris is a top 1% Diamond+ Provider of Invisalign so you know you'll receive the best care possible.
Questions to Ask Your Orthodontist Before Beginning Your Invisalign Treatment
Invisalign can transform your smile gradually with clear aligners for people of all ages. Before getting Invisalign, here are some common topics that Dr. Harris looks forward to discussing with you.
Why Should I Get Invisalign as an Adult?
It's never too late to straighten your teeth. Doing so can correct functional issues and make you more confident about your smile.
Invisalign is less restrictive than braces and more comfortable to wear. However, every patient is unique, and Dr. Harris' extensive experience and research on Invisalign means he is able to treat complicated cases that other orthodontists may only be able to treat with traditional braces.
How Much Will My Invisalign Clear Aligners Cost?
The cost for your Invisalign clear aligners will vary depending on how much adjustment is necessary. However, Dr. Harris does not charge more for Invisalign than braces. Insurance companies will cover Invisalign as they do for braces. Get an idea of your cost with our payment calculator here!
Is It Possible to Switch from Braces to Invisalign?
Yes, you can switch from braces to Invisalign. Some patients even have a combination of braces and Invisalign to help improve their smile. If you had braces in the past and your teeth are still misaligned, Invisalign for adults can help bring your teeth back to where they belong.
Is Invisalign Uncomfortable?
Most patients who've transformed their smiles with Invisalign report that it is more comfortable than the metal brackets, wires, hooks, and bands of traditional braces. The plastic aligners apply gentle pressure to each tooth to move it into place.
In the beginning, you may feel slight discomfort from the pressure. This is most common during the first week of treatment or when you change to a new set of aligners.
Benefits of Invisalign
One of the biggest benefits you will see from your Invisalign treatment is a straight and beautiful smile. Additional benefits include:
No unsightly brackets or braces
Easy to remove for events or special occasions
No food restrictions
No activity restrictions
At Harris Orthodontics, we can help adults get the smile of their dreams with Invisalign clear aligners.